Introducing the
Friends of the Orinda Library
Mural Project
The Friends of the Orinda Library have commissioned renowned mural artist Jane Kim of Ink Dwell studio to create a beautiful mural depicting the unique ecosystem of Orinda. The mural will be painted on the south-facing Library wall above the garage entrance. Production will begin in Spring 2022 and will continue for approximately six weeks. 
About the Artist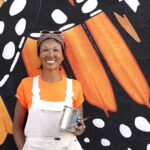 Jane Kim is the co-founder of Ink Dwell, a studio dedicated to art that celebrates wildlife and its role in the natural world.  She has created large-scale public art across the country, including the Wall of Birds at The Cornell Lab of Ornithology, and produced works for the National Aquarium, the de Young Museum, Leigh Yawkey Woodson Art Museum, and more. She is the creator of the Migrating Mural campaign, a series of public installations that highlight wildlife along migration corridors it shares with people. To learn more about Ink Dwell visit www.inkdwell.com or on Instagram at instagram.com/inkdwell. 
About the Project
ConnectOrinda—the initiative to make the Theater District and the Village more accessible to each other—suggested a mural as an opportunity for a public art project. The Friends of the Orinda Library board members have generously made personal financial contributions to the project and are donating the mural to the City of Orinda. The Friends of the Orinda Library are excited to invite the entire community to participate in this effort and hope you will join us with your support.
Support the Library Mural Project- Donate Today!
Donate securely online or mail a check payable to Friends of the Orinda Library to PO Box 152, Orinda, CA  (indicate that your donation is for the "Mural Project"). All donations for the mural are tax-deductible. Questions can be directed to Mary Kate Rittmann: krittmann@hotmail.com
Note that the primary focus of the Friends of the Orinda Library remains to support the Orinda Library by purchasing library materials and sponsoring programs for adults, teens, children and toddlers. This is a one-time fundraising effort to promote a significant work of public art.  
SaveSave
SaveSave
SaveSave
SaveSave
SaveSave
SaveSave
SaveSave